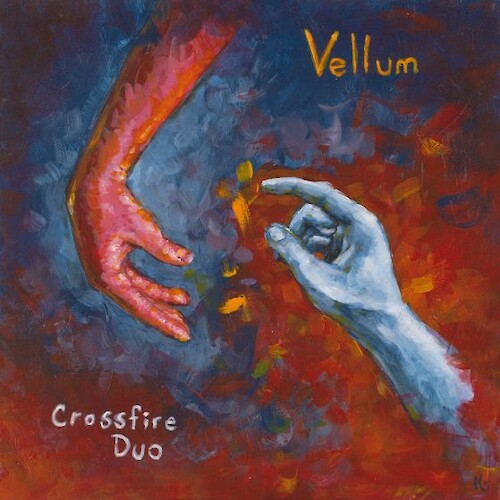 Vellum - Crossfire Duo
Year

2023

Artist

Robert Fullex and Jason Bauers, percussion

Label

Infrasonic Press

Catalogue #

IFSP 07-c

Works
Links
Program Notes

Crossfire, for two percussionists, was commissioned by the Barlow Foundation at Brigham Young University in 1999 for the San Francisco Contemporary Music Players, who gave the world premiere performance December 4, 2000 at Yerba Buena Center for the Arts in San Francisco, with percussionists Daniel Kennedy and William Wynant.

Crossfire uses a very large battery of percussion instruments, including vibraphone, marimba, glockenspiel, crotales, triangle, chimes, cymbals, cowbells, almglocken, cowbells, temple blocks, wood blocks, bongos, timbales and tom toms. The two percussionists play instruments of similar yet contrasting timbres against one another, such as vibraphone versus marimba, wood bocks versus temple blocks, and timbales versus tom toms.

The first movement, marked allegro molto, introduces many of the instruments, though the marimba and vibraphone are predominant. Often both players interleave instruments of different timbres, creating the illusion of a larger ensemble. The meditative, andante second movement introduces the drums, first heard playing repeated-note glissandi, together with bowed vibraphone and crotales. The tremolo effect produced by the vibraphone's motor adds atmosphere. The third movement is a rollicking finale capped by a brief coda in which each timbral group – mallet keyboards, non-pitched metal, wood, and finally skins –has its final say.

Jason Bauer and Bob Fullex give a definitive interpretation of Crossfire in this first recording, playing with swing, passion, color, intensity, precision, mystery and abandon as called for by the music in this virtuoso performance.